WD My Book Duo vs NAS – which one is better? The WD My Book is a DAS device, using USB 3.0. It's designed for a direct connection to a PC/Mac. For a wireless connection is designed the My Cloud, using Ethernet, instead of USB. Usually, there could be the possibility of attaching an external DAS drive via USB to the router to use it as a DIY NAS, but it depends very much on the firmwares, the drive and especially on the router itself. It could in most cases work with a portable external drive, but the My Book is more specific in design, so even if you succeed half way through you could either way encounter problems.
Consumer Reviews is supported by its audience. This website contains Paid Links. As an affiliate, we earn from qualifying purchase. Find more
That's why there are specific NAS devices like the My Cloud, connecting through Ethernet. They are designed to be connected in the routers and accessed over the network. And the My Book Duo and the My Cloud Mirror are just the two-bay versions of the DAS My Book and NAS My Cloud. They have more options in terms of security as to their drives could be set in RAID. Which one is better – WD My Book Duo vs NAS?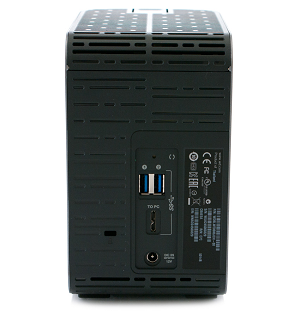 WD My Book Duo vs NAS
WD My Book Duo
My Cloud™ PR4100 (NAS)
Type
Massive capacity desktop
RAID storage
High-powered media server with built-in transcoding for rich
video playback with Plex.TM
Capacities
• 20TB
• 16TB
• 12TB
• 8TB
• 6TB
• 4TB
• 40TB
• 32TB
• 24TB
• 16TB
• 8TB
• Unpopulated
Number of hard disks
4
Interface
1x USB 3.0
(compatible with USB 2.0)
• 2x USB 3.0 hub ports
(compatible with USB 2.0)
• 2x Gigabit LAN
• 3x USB 3.0 host
(compatible with USB 2.0)
Customization
• Third-party apps
Features
• Massive capacity storage with auto
and system backup
• RAID-0 ready out of the box
• RAID optimized WD Red™ drives
• USB 3.1 Gen 1-ready, USB 3.0
compatibility
• 2x USB 3.0 hub ports
• 256-bit AES hardware encryption and
password protection
• Includes WD Discovery™ software for
social media and cloud storage import,
backup and password protection
• Upgradable to 16 GB RAM
• Remote access by PC, Mac,
AndroidTM or iOS
• Hardware-based video
transcoding with PlexTM
Media Server
• Two power ports (DC in) for
redundant power supply
• RAID level 5, 0, 1, 10, JBOD and
Spanning
Supplied software
• WD Discovery™ software for WD
Backup™,
WD Security™ and
WD Drive Utilities™
• WD SmartWare™ Pro
(25 user licenses)
• WD Access
• WD Sync
• My Cloud™ app
Color
Black
Black
Power supply
AC power adapter included
External power supply
Warranty
3 years
• 3 years populated
• 2 years as unpopulated
My Book Live Duo vs My Cloud PRO PR4100 (NAS) vs Synology DS716+II

WESTERN DIGITAL MY BOOK LIVE DUO (MBLD)

WESTERN DIGITAL MY CLOUD PRO SERIES PR4100 (PR4100)

SYNOLOGY DISKSTATION DS716+II (DS716P2)
Launch
2012
2016
2016
Class
Small office / Home office
Small office / Home office
Small / Medium business
Body
Dimensions
165 x 157 x 99 mm
232 x 170 x 192 mm
157 x 103.5 x 232 mm
Weight
2.2 kg
3.49 kg
1.75 kg
Disks
Disk bays
2 x 3.5″ SATA II
4 x 3.5″ SATA III
2 x 3.5″ SATA III
RAID
JBOD
RAID0
RAID1
JBOD
RAID0
RAID1
RAID10
RAID5
JBOD
RAID0
RAID1
Synology Hybrid RAID
SSD support
no
no
yes
Network
LAN ports
1 x Gigabit Ethernet
2 x Gigabit Ethernet
2 x Gigabit Ethernet
Wireless
no
no
yes, with USB dongle
Protocols
AFP
CIFS/SMB
FTP
NFS
AFP
CIFS/SMB
FTP
ISCSI
NFS
WEBDAV
AFP
CIFS/SMB
FTP
ISCSI
NFS
WEBDAV
P2P support
no
BitTorrent
eMule
BitTorrent
Media server
DLNA
UPnP
iTunes
DLNA
UPnP
iTunes
DLNA
UPnP
iTunes
Cloud backup
no
Amazon S3
Dropbox
ElephantDrive
Amazon S3
Box
Dropbox
Google Drive
Microsoft OneDrive
Connectivity
USB ports
1 x USB 2.0
3 x USB 3.0
3 x USB 3.0
eSATA ports
no
no
1 x eSATA
System
CPU
Applied Micro APM82181 @ 800 MHz
Intel Pentium N3710 quad-core @ 1.6 GHz
Intel Celeron N3160 quad-core @ 1.6 GHz
RAM
256 MB
4 GB DDR3
2 GB
Flash
512 kB
Operating system
WD My Book OS
WD My Cloud OS
Synology DSM
Alternative OS
Power
Power supply
12 V / 3 A
19 V / 4.74 A
12 V / 5.4 A
Consuption
19.14 W / 9.5 W
Fans
fanless
1 x 120 mm
1 x 92 mm
Noise level
18 dB(A)
Features
Specials
LCD Panel
Failover and link aggregation
Dual power ports
VMWare Ready
Failover and link aggregation
DX213/DX513 Expansion Unit
Administration
Default IP
DHCP
DHCP
DHCP
Default username
admin
admin
admin
Default password
admin
[blank]
[blank]
WD My Cloud EX2 Ultra, Synology DISKSTATION DS216 AND SYNOLOGY DISKSTATION DS116

WESTERN DIGITAL MY CLOUD EX2 ULTRA (WDBVBZ0000NCH)

SYNOLOGY DISKSTATION DS216 (DS216)

SYNOLOGY DISKSTATION DS116 (DS116)
Launch
2016
2015
2016
Class
Small office / Home office
Small office / Home office
Small office / Home office
Body
Dimensions
165 x 157 x 99 mm
165 x 108 x 233.2 mm
166 x 71 x 224 mm
Weight
800 g
1.3 kg
700 g
Disks
Disk bays
2 x 3.5″ SATA III
2 x 3.5″ SATA III
1 x 3.5″ SATA III
RAID
JBOD
RAID0
RAID1
JBOD
RAID0
RAID1
Synology Hybrid RAID
no
SSD support
no
yes
yes
Network
LAN ports
1 x Gigabit Ethernet
1 x Gigabit Ethernet
1 x Gigabit Ethernet
Wireless
no
no
yes, with USB dongle
Protocols
AFP
CIFS/SMB
FTP
ISCSI
SFTP
WEBDAV
AFP
CIFS/SMB
FTP
ISCSI
NFS
WEBDAV
AFP
CIFS/SMB
FTP
ISCSI
NFS
WEBDAV
P2P support
BitTorrent
eMule
BitTorrent
eMule
BitTorrent
Media server
DLNA
UPnP
iTunes
DLNA
UPnP
iTunes
DLNA
UPnP
iTunes
Cloud backup
Amazon S3
Dropbox
ElephantDrive
Amazon S3
Box
Dropbox
Google Drive
Microsoft OneDrive
Amazon S3
Box
Dropbox
Google Drive
Microsoft OneDrive
Connectivity
USB ports
2 x USB 3.0
1 x USB 2.0
2 x USB 3.0
2 x USB 3.0
eSATA ports
no
no
no
System
CPU
Marvell Armada 385 88F6820 dual-core @ 1.3 GHz
Marvell Armada 385 88F6820 dual-core @ 1.3 GHz
Marvell Armada 385 88F6820 dual-core @ 1.8 GHz
RAM
1 GB DDR3
512 MB
1 GB
Flash
16 MB
Operating system
WD My Cloud OS
Synology DSM
Synology DSM
Alternative OS
Power
Power supply
12 V / 4 A
12 V / 5 A
12 V / 3 A
Consuption
15.48 W / 7.2 W
10.68 W / 6.28 W
Fans
fanless
1 x 92 mm
1 x 60 mm
Noise level
18 dB(A)
16.4 dB(A)
Features
Specials
Administration
Default IP
DHCP
DHCP
DHCP
Default username
admin
admin
admin
Default password
[blank]
[blank]
[blank]
Editor's recommendations