The Extendable 5MP Lite DVR video recorder provides 8 input ports, you could add 4 more analog cameras for your DIY installation. The night vision covers up to 100ft and 82.2° view angle. With the free ANNKE VISION APP users can Live View & Playback on Smart Devices(IOS/Android) with WiFi or 2G/3G/4G Anywhere Anytime. Check in on your home or business freely on your phone, table or PC, wherever you have an internet connection. Should you buy it? Get details in ANNKE 5MP Lite security camera system reviews.
Consumer Reviews is supported by its audience. This website contains Paid Links. As an affiliate, we earn from qualifying purchase. Find more
In the box
1 * 5MP Lite Surveillance DVR
1 * 1080P Spotlight Camera
3 * 1080P Cameras
1 * Power Adapter for DVR
2 * Power Adapter for Cameras
1 * 5.9ft/1.8m HDMI Cable
1 * 3.2ft/1m Ethernet Cable
4 * 60ft/18.3m BNC Cables
1 * USB Mouse
1 * User Manual & Software CD
4 * Mounting Screw Kits
Specifications – ANNKE 5MP Lite security camera system
Spotlight Camera:
Image Sensor: 2MP CMOS Image Sensor
Video Resolution: 1920*1080
Lens: 3.6 mm
Lamp: 2 SET
Brightness: 375 lumens
Color Temperature: 4500K, Warm White
Number of Infra-Red LEDs: 4
Day and Night Function: Support IR-CUT
Night Vision Distance: Up to 16ft/5m
Operating Conditions: -10 °C – 45 °C (-14 °F – 113 °F)
DVR:
Video Input: 8CH Analog HD/Analog+2CH IP Cameras
Video Output: HDMI/VGA Up to 1080P
Analog HD Playback Resolution: 5MP Lite/3MP/1080P/720P/VGA/WD1/4CIF/CIF
IPC Recording/Playback Resolution: Up to 2M (1920*1080)@30fps
Max Playback Channel: 8 Channels
Onvif Protocol: Support

Camera:
Image Sensor: 2MP CMOS Image Sensor
Video Resolution: 1920*1080
Lens: 3.6 mm
Number of Infra-Red LEDs: 12
Day and Night Function: Support IR-CUT
Night Vision Distance: Up to 100ft/30m
Operating Conditions: -40 °C – 60 °C (-40°F – 140 °F)
PIR Detection, Spotlight for Warning and Lighting
1080P HD Viewing, Recording & Playback
Advanced H.265+ Video Compression
Customizable Motion Detection
Email Alert with Snapshots & APP Push
Windproof And Waterproof
TVI/AHD/CVI/CVBS/IP 5-in-1 DVR
ANNKE 5MP Lite security camera system reviews
Build
The unit easy to place, well built, the cameras and cables seem to be well made (especially for the price), placing a hard drive in the unit was simple and it doesn't need much power allowing use of a small battery backup for power outages.
1080P Spotlight Camera
This 1080P Full HD security camera with spotlight is newly designed for home security, guards your home effectively by capturing every detail. Combined security camera with gate lamp, it is suitable to install at corridor and gateway where always people come and go, light up your way back home and secure your family with bright light. Nothing hides behind the innovative spotlight camera.
Image quality
I am very amazed on the quality of the picture at this low price.The quality of the cameras are way better than the last ones that I brought and also more expense than this one.The brightness of the screen makes the camera very good and easy to see the outside.
PIR Detection
Regular security can only detect motions when connected with a DVR, our spotlight camera supports both motion detection and PIR detection. With sensitive PIR sensor and 180° wide detect angle, it detects movement from human and animal correctly within 30ft and activates spotlights immediately. Spotlight will lasts for about 30s to warn off intruder and help to capture color snapshots.
DVR
The DVR itself is small, light, and a bit flimsy. I was worried when I opened it up to install the hard drive and saw how unimpressive the inner components are. In fact, I was worried about damaging it by setting a small 15 inch LCD monitor on top of it. The DVR did fail to boot once during initial testing and had to be unplugged to restart it. The LED to indicate power on the front of the DVR stopped working after a day of use.
H.265+ Coding
Foremost H.265+ coding is the best video compression technology in nowadays and in next decade. One obvious benefit of H.265+ is that you can enjoy smooth remote viewing without retard, no more waiting for buffering and loading. Built-in 1TB HDD, the system keeps recording 98 days continuously for 4 cameras simultaneously, which is 7x compared with H.264, saves the cost of buying an extra HDD.
Annke App
Not only can the system be viewed through your TV or computer monitor, but you can also access it through Annke's app.
The app is available for Android and iOS.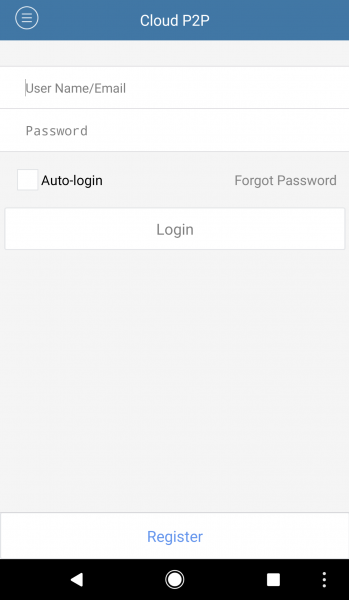 After you download and install the app, you'll go through an easy setup wizard where you'll choose your location, set up your mobile account, and connect your system.
After you've completed the wizard, you should have access to your live view.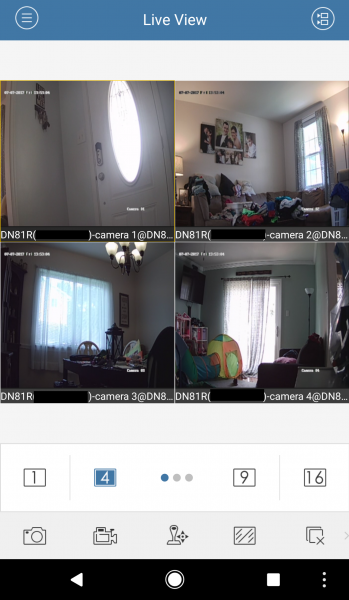 As with the basic use of the DVR, the mobile app is wonderfully simple to use.
ANNKE 5MP Lite security camera system customer reviews
After 6 months of use: real Plug 'N Play and efficient tech/warranty help when there's a problem

I have had this system up for 6 months now and I couldn't be happier with the quality and the easy of installation. Bear in mind that this is not PoE so you will have to drill some bigger holes to get both the power and signal plugs through but that is no problem for me. The price is absolutely spot on for my feeling.

Two weeks ago I had a short power outage and the P2P didn't seem to work anymore afterwards. Everything was fine as long as you were on the home wifi, but once on 4G it said that the signal was unstable.

So I sent an email to Annke's support service and somewhat to my surprise I got a reply the very next day. Over the course of several days/emails they talked me through the different repair options but unfortunately none of them worked (although I consider their advice valuable, such as doing a factory reset, booting without the hard disk connected or changing the power supply to see if that helped).

Since my system software was up to date, we did not consider it necessary to do an update straight away. In the end I decided to download the current software for my device from the Annke support website on a USB stick and transfer that to the device (it has got two USB ports, of which one is taken up by the mouse). Running the install was easy and – lo and behold – the startup screen was a little different than it was before (maybe the software on the support website was a slightly different version ?) but everything works again and I can't find any drawback to this new version of the operating software.

So if your P2P suddenly fails, maybe try doing some of the stuff I tried with the help of Annke support, and if all fails install the version of the operating software recommended for your device on the Annke support website with the help of an USB stick. It certainly helped me out !

Oh, and another detail: when initially it looked as if we wouldn't get the system going again over P2P, Annke support offered me to help with any warranty claims via the Amazon purchase number. Now that is what I call service !

Jerome, Trustpilot Reviewer
Alternate of ANNKE 5MP Lite security camera system
ZOSI 5MP Home Security video-recording system: Best for protection plans
Protect your security investment long-term.
Pros
Multi-year protection plans available
Easy to install and use
Expandable storage
More built-in storage
Cons
Doesn't always perform as it should
Requires internet connection
Limited night vision
Why we chose Zosi 5MP Home Security
Zosi's another easy-install, eight-channel system. Instead of coming with a single-year warranty like Amcrest, it offers inexpensive two- or three-year protection plans when you buy. We're big fans of this feature. When you make a costly investment like a CCTV system, you should be able to protect it for an extended period. Especially if you're just starting a small business, the comforting knowledge that Zosi has your system covered could go a long way.
Resolution
Zosi also records at 1080p. Its night vision is pretty limited though: just 50 feet.
The recording for Zosi's eight cameras is motion based. When a camera detects motion, it begins recording and sends either an email or mobile notification to you.
Storage
Like Reolink, Zosi comes with 2 TB of storage already built in, which is more than the other systems we reviewed. You can also expand its storage for a total of 6 TB.
Night Owl security system: Best design
This system costs a lot but has a user-friendly design.
Pros
Beautiful design
Large night vision range
24/7 support
Two-way audio
Cons
High price
Minimal pre-installed storage
Fewer channels
Why we chose Night Owl
The camera has a lip to keep rain and snow off the lens.
There's something to be said for a pretty camera. We especially like Night Owl's sleek design because it also takes user experience into account. The camera looks appropriately intimidating, and it has a lip to keep rain and snow off the lens. It also has two-way audio in case you want to confront the suspicious-looking stranger lurking in your backyard.
The only real downside to Night Owl is the price. It costs a lot more than most of our other recommendations but has fewer channels than Annke, the cheapest product on the list. But we think Night Owl's intruder-intimidating yet customer-friendly design makes it a worthwhile investment, possibly even for a business.
Resolution
True to its name, Night Owl sees in the dark for up to 100 feet. And like other recommendations on this list, it takes HD video at 1080p.
Storage
Night Owl comes with 1 TB of storage pre-installed. Just like with Amcrest, you can increase the storage space with an added drive. Night Owl's total storage limit is lower, though: 4 TB.
Editor's recommendations