By combining hot air with high-speed air circulation, the NuWave Brio 3L Digital Air Fryer perfectly cooks all of your favorite fried foods quickly and efficiently. The NuWave Brio boasts precise temperature control, able to cook between 40 and 200°C, adjustable in 5-degree increments. The intuitive touch screen digital controls make it incredibly easy to air fry your favorite foods faster, easier and healthier. It even includes a unique Pre-Heat function, which helps ensure crispy results with less waiting. Plus, nearly all parts easily separate and are dishwasher-safe for easy cleaning.
Consumer Reviews is supported by its audience. This website contains Paid Links. As an affiliate, we earn from qualifying purchase. Find more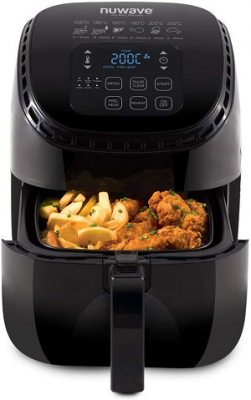 What is good in NuWave Brio digital air fryer?
Unique Multi-Level Design
Air fry chicken on one level and veggies on another for a complete meal. The wire mesh racks facilitate air flow all around your food and allows excess fat and oil to drip out of your food and into the drip tray at the bottom of the Brio. The Brio boasts a unique design which makes cooking multiple foods simultaneously a breeze.
NuWave Cooking Club App
Featuring recipes specifically written by NuWave chefs for the NuWave Brio, there's a recipe here for virtually any occasion. Whether you're a first-time cook or a seasoned pro, you'll be able to prepare everything from delicious meals to healthy snacks to scrumptious desserts using the resources in this app.
Rotisserie like made by chef
The Brio's convenient Rotisserie button makes it incredibly easy to prepare restaurant-quality rotisserie meals that are evenly cooked on all sides. The NuWave Brio comes with a professional-style Rotisserie Basket and Rotisserie Skewer. These accessories let you prepare delicious rotisserie chicken, pork, fish and so much more all in the comfort of your own home.
Preset selections from 100 menus
The Brio has presets for everything from broccoli to burgers to chicken breasts and even cookies. And if you want to program your own recipes into your Brio, you can do just that with the Brio's save your own custom recipes directly into the unit. The NuWave Brio features 100 recipe presets already programmed into the unit. This means that with the simple press of a button, the Brio will automatically cook at just the right temperature for just the right amount of time for some of the most popular dishes.
Distribute heat equally
Whether you're air frying a basket of chicken wings, roasting vegetables or grilling sandwiches, the Brio will cook your food from all angles, resulting in evenly cooked meals that are crispy on the outside and juicy on the inside. The NuWave Brio is built with a uniquely designed cooking chamber. Super-heated air is circulated all around your food, cooking it from all sides at the same time.
Easy temperature control
The Sear button lets you sear the juices into your food before cooking for perfectly crispy results that remain tender. The Warm button will keep your food at the perfect temperature until you're ready to eat. The NuWave Brio can cook between 60°F and 400°F, adjustable in 5°F increments with the simple press of a button. The Brio also features convenient cooking functions you can access with the simple press of a button. The Preheat button ensures the cooking chamber is at the perfect temperature even before you start cooking.
Wattage Control
You can adjust the wattage 14-quart NuWave Brio requires with the simple press of a button. Choose between the default 1800 watts, 1500 watts or 900 watts. Whether you're cooking in an RV, in a dorm room or anywhere you may have a limited power supply, the Brio can still cook safely and efficiently.
Cleaning is easy
The NuWave Brio is made with a handy removable front door to help give you easy access to the inside of the unit for cleaning. The Brio's mesh racks, mesh tray and rotisserie parts are all removable for easy cleaning. They are even dishwasher-safe to make cleanup even easier.
Safety is first priority
The NuWave Brio has built-in safety features which ensures that the Brio automatically and immediately shuts off when the door is removed. And the Brio won't start cooking again until the door is securely closed.
NuWave Brio 3L digital air fryer comparison
| | 3-quart Brio | 6-quart Brio | 10-quart Brio |
| --- | --- | --- | --- |
| Cooking Capacity | 1.5lb French Fries, 2 (8oz) Chicken Breasts | 2lb French Fries, 1 (3.5lb) Chicken | 4lb French Fries, 1 (8lb) Chicken |
| Wattage | 1300 watts | 1800 watts | 1500 watts |
| Temperature Range | 100°F-400°F | 100°F-400°F | 100°F-400°F |
| Features | Preheat, Reheat | Preheat, Reheat | Preheat, Warm, Sear, Stage Cooking |
| Rotisserie Function | | | ✓ |
| Smart Auto Pause For Safety | ✓ | ✓ | ✓ |
| PFOA-Free Non-Stick Coating | ✓ | ✓ | ✓ |
| Removable Divider Insert | | ✓ | |
| Program & Save Up To 100 Recipes | | | ✓ |
What is the best NuWave Brio digital air fryer?
NuWave Brio 3L digital air fryer
The NuWave Brio Digital Air Fryer allows you to enjoy your favourite foods without the unhealthy fat and oil found in traditional deep-fried food. Now you can air fry using little to no oil for great tasting, healthier food.
The secret to perfectly fried foods is the Brio Precision Air Flow Technology for even heat distribution and Smart Digital controls. Plus the large 3 litre capacity and non-stick coating ensure perfect results every time.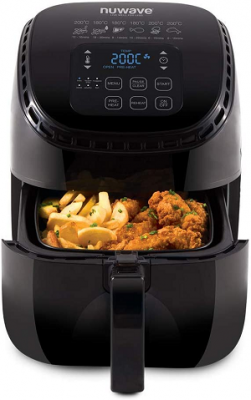 Key features
Healthier Cooking – No Added Oil or Fat Needed.
Faster Cooking – Precision Air-Flow Technology.
Smart Digital Controls – for Easy Use and Accurate Cooking.
Even Heat Distribution – Better Results in Less Time.
6 preset functions for fries, frozen fries, nuggets, steak, poultry and fish.
Removable, dishwasher safe tray and large 3 litre food basket with durable non-stick coating.
---
NuWave Brio Air Fryer 3-Qt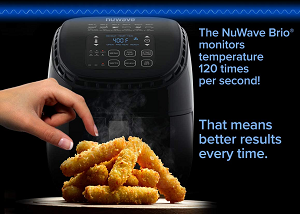 Digital LED controls ensure accuracy and consistent results
Temperature range from 100°F-400°F in 5°increments
3 qt. capacity
6 presets include: Fries, Frozen Fries, Nuggets, Steak, Poultry, Fish
3 wattage control settings: 600/900/1300
---
NuWave Brio Air Fryer 14 Qt
The NuWave Brio Air Fryer 14 Qt uses super-heated air and a special air-flow design to cook crispy delicious fried foods without messy oil and extra fats and calories. Flavor-Infusion Technology allows you to air-fry all your favorites. Even cook from frozen, without defrosting. NuWave Brio Air Fryer 14 Qt is the perfect combination of capacity and versatility. Perfect for busy households on the go!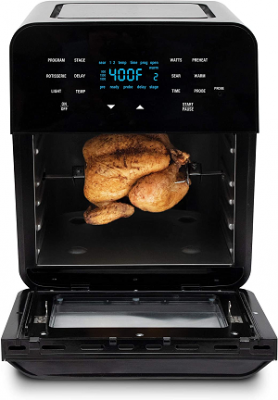 Cooking Capacity : 2lb French Fries, 1 (7lb) Chicken
Wattage : Adjustable 1800, 1500 and 900 watts
Temperature : 60°F-400°F
Features : Delay, Preheat, Warm, Sear & Stage Cooking
Digital Temperature Sensor To Ensure Accurate, Consistent Cooking Temperature : Yes
Integrated Digital Temperature Probe : Yes
Removable, Dishwasher-Safe, Stainless Steel Inserts & Racks Included : Yes
100 Preset Recipes & Memory For 100 Additional Custom Recipes : Yes
---
NuWave air fryer 6 Qt digital air fryer
The NuWave air fryer 6 Qt is the perfect size for cooking 3 pounds of French fries, 4 chicken breasts, over 2 pound of wings and much more. Its compact for small apartments, RV's and dorm rooms. The perfect size for singles or couples.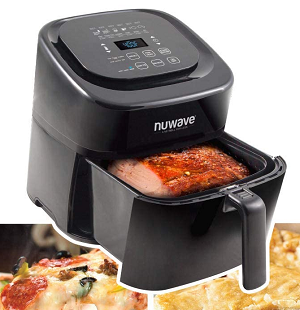 Key features of NuWave air fryer 6 Qt
Cooking Capacity : 2lb French Fries, 1 (3.5lb) Chicken
Wattage : 2lb French Fries, 1 (3.5lb) Chicken
Temperature range : 100°F-400°F
Features : Preheat, Reheat
Rotisserie Function : No
Smart Auto Pause For Safety : Yes
PFOA-Free Non-Stick Coating : Yes
Removable Divider Insert : Yes
Program & Save Up To 100 Recipes : No
Editor's recommendations