Coway Airmega 400 smart air purifier is designed to accommodate large room sizes up to 1,560 square feet and cleans the air at least two times per hour when used as recommended. It is a smart, energy efficient air purifier with a three-setting smart mode to adapt to its surroundings. Fan speed automatically adjusts based on the room's air quality and lighting conditions to improve air quality. Get more in Coway Airmega 400 smart air purifier review – CADR, filter & manual.
Consumer Reviews is supported by its audience. This website contains Paid Links. As an affiliate, we earn from qualifying purchase. Find more
What is good in Coway Airmega 400 smart air purifier?
Two-sided air intake – While most models only pull in air from one vent, this one takes in air from vents on the left and right sides.
Instant air quality monitoring – an LED color-changing indicator on the front of the unit lets you gauge the current air quality. Blue = good. Purple = moderate. Pink = unhealthy. Red = very unhealthy.
Two ways to operate – Push-button controls on the top of the unit plus a remote control offers versatility.
Timer – Choose between 1, 4, and 8 hours.
Three regular fan modes – low, medium, and high.
Smart fan mode – Automatically adjusts the fan speed (auto, sleep, or eco) depending on air quality and lighting. The Eco mode shuts off the fan to save energy if clean air is detected for 10 minutes straight.
Filter change indicator – Lets you know when it's time to change both the pre-filter and Max2 filters.
Quiet – Even at higher speeds. Ranges from 22 – 52 dB.
Compare Coway Airmega 400 vs Coway Airmega 400S
| | 400S Graphite | 400S White | 400 Graphite | 400 White |
| --- | --- | --- | --- | --- |
| App & Alexa & DRS | Yes(IOS, Android) | Yes(IOS, Android) | – | – |
| Coverage | 1,560 sq. ft. | 1,560 sq. ft. | 1,560 sq. ft. | 1,560 sq. ft. |
| Auto Mode | Yes | Yes | Yes | Yes |
| Eco Mode | Yes | Yes | Yes | Yes |
| Sleep Mode | Automatic | Automatic | Automatic | Automatic |
| Filters | Washable Pre-Filter+Max2 Filter Set(Activated Carbon+Green True HEPA) | Washable Pre-Filter+Max2 Filter Set(Activated Carbon+Green True HEPA) | Washable Pre-Filter+Max2 Filter Set(Activated Carbon+Green True HEPA) | Washable Pre-Filter+Max2 Filter Set(Activated Carbon+Green True HEPA) |
| Pollution Indicator | Yes (4 Levels) | Yes (4 Levels) | Yes (4 Levels) | Yes (4 Levels) |
| Filter Life Time Indicator | Yes | Yes | Yes | Yes |
| Fan Speed | Sleep, Low, Medium, High | Sleep, Low, Medium, High | Sleep, Low, Medium, High | Sleep, Low, Medium, High |
| Timer & Scheduler | Timer 1, 2, 4, 8 Hr & Scheduler | Timer 1, 2, 4, 8 Hr & Scheduler | Timer 1, 4, 8 Hr | Timer 1, 4, 8 Hr |
Coway Airmega 400 smart air purifier review
Design
The Airmega 400 is available in white and graphite/silver. I tested the graphite model, which fit in well with the darker tones of my dining room. The unit is 23 inches high and 15 inches wide and deep so it takes up a little bit of room, but doesn't dominate the space. For the most part, when guests visited, they didn't notice it was there, and if they did, they thought it looked fancy.The unit weighs 25 pounds so it isn't ideal for lugging around to purify the air in each room of your house. However, it does have handles on each side if you do decide to move it.
Filtration
Two levels of filtration work to capture 99.97% of airborne pollutants as small as 0.3 microns as well as volatile organic compounds (VOCs) and other noxious fumes.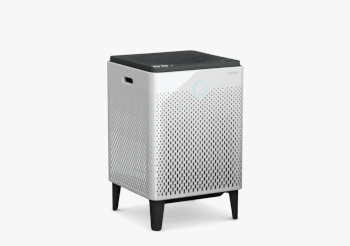 Washable prefilters – One on each side of the unit. You can either gently vacuum or wash under running water. Air dry completely before reinstalling.
Max2 Filters – One on each side, under the prefilters. Combines both activated carbon and True HEPA layers
There is no ionizing feature on this air purifier, so those very sensitive to ozone should have zero issues with the Airmega 400. The Max2 filters will last about 1 year, while the prefilters can last a few years if properly maintained and not torn.
Filter quality
The pelletized activated carbon works extremely well. So much so, when we brought our freshly cut Christmas tree into the house, this thing removed all the fresh tree smell within hours…to the dismay of my wife. True HEPA with anti microbial treatment is standard
Quality: extremely well built, touch controls and lighting are nice touches. Finally an air cleaner you can turn all the lights off on
ACH & CADR Ratings
At its maximum capacity (1,560 sq. feet), you can expect a 2X ACH (air changes per hour), which means it cleans all the air in that size of a room twice in one hour. As you might expect, it performs twice as efficiently and delivers a 4X ACH rating in a room that's half as big (780 sq. feet).At it's maximum capacity it cleans all the air twice in one hour.
While Coway doesn't list the CADR (clean air delivery rate) in the manual, independent testing lists CADR at 350 for pollen, dust, and smoke with a maximum CFM (cubic feet per minute) of 410.
Air sensor
At first I was skeptical about this feature, unsure as to how sensitive it would be. What sold me was the first time I cooked something smoky/smelly in the house. For context the unit is approx 15 ft away from my kitchen. Within minutes of starting to cook a burger in a cast iron pan (with the exhaust fan on hi) I looked down the hall and immediately saw the units indicator light turn purple, indicating deteriorating air quality and fan speed increased. A few minutes after that, the light went red and fan kicked into high, eliminating any spill over smell in the house. This has happened several times and really sealed the deal for me as to its quality and effectiveness.
Noise
At its quietest, the Airmega 400 runs at whisper level, around 22 dB and only reaches a max of around 52 dB at its highest fan setting. That's nice and quiet as far as air purifiers go. Plenty quiet enough to make phone calls or have conversations with no difficulty.
From 3 feet (1m) away:
40 dB High
35 dB Medium
22 dB Low
20 dB Off – quiet room
From 1 inch (2 cm) away:
52 dB High
44 dB Medium
32 dB Low
Power Usage
This is an Energy Star-certified air purifier rated at 64 watts. This wattage means that running the Coway 400 for 12 hours daily at the highest speed level would cost you roughly $34 annually (assuming that you pay $0.12 per kilowatt-hour of electricity).
Timer
The AirMega has the option of setting a timer – you can choose for it to turn off after 1, 4, or 8 hours. This is a great feature in case you're leaving the house and want to return to breathe fresh, clean air, but want to save on your energy bill, too.
Coverage
This air purifier covers up to an area of 1,560 square feet, which is a large space. The smaller the space, of course, the faster it will purify the air.
How to setup Coway Airmega 400 smart air purifier
Remove the both sides of covers and filters in the following order.
Covers ▶ Pre-filters ▶ Max2 filters
Remove the plastic wrapping for Max2 filters on both sides. Discard the plastic wrapping for Max2 filters.
Return the both sides of filters and covers in reverse order at the first step.
Max2 filters ▶ Pre-filters ▶ Covers
Insert the power plug into a power outlet. The indicators on the air purifier will blink.
Touch the [Power] button to turn the air purifier on. You will hear a chime sound
Alternate of Coway Airmega 400 smart air purifier
Coway AP-1512HH Mighty
Don't need the super wide coverage or limited airflow delivery rate, Coway Mighty "might" do the trick. At a fraction of the cost, you'll get decent filtration and airflow output that can cover large room size.
Airmega 400S
Identical in design, airflow delivery rate, CADR and purifying coverage. Airmega 400S comes with Wi-Fi support for remote access and Amazon Alexa support. Incidentally, 400S is also the most expensive unit in Airmega lineup.
Rabbit Air MinusA2 SPA-780N
Rabbit Air MinusA2 is not the light to light comparison. it does well with a 6-stage filtration that adds a medium and customizable filter in the pack. Adding a wall-mountable body and interchangeable front panel into the list, the cheaper price tag might entice you to switch over.
Airmega 300
Cheapest Non-WiFi Airmega model but without the real-time pre-filter/ HEPA filter usage indicator. Airmega 300 weaker airflow purifying and CADR output are also expected.
Editor's recommendations