Is it good for gaming? Enhanced Gaming Mode enables lightning-fast response time, whereas Game Display Mode boosts shadows and dark scenes for greater visibility of impending obstacles. Dynamic Black technology provides more depth to the image by smoothing lamp output to create a high contrast ratio (500, 000: 1); bright scenes appear clear while dark scenes remain detailed. Get details in Optoma HD146X High Performance projector review.
Consumer Reviews is supported by its audience. This website contains Paid Links. As an affiliate, we earn from qualifying purchase. Find more
Pros & Cons
PROS
Excellent color accuracy, contrast, and black level for the price
Full HD 3D support
High brightness designed to stand up to ambient light
Fast input lag
Image feels three-dimensional
CONS
Lacks image shift for setup
Only one HDMI port; USB port is only for power out
Onboard audio is poor
Specs – Optoma HD146X High Performance projector
Throw distance: 3.3′ – 32.2′
Image size: 28.05″ – 301.59″
Throw ratio: 1.47:1 – 1.62:1 (D:W)
Brightness: 3,600 ANSI lumens
Resolution: 1920×1080
Aspect ratio: 16:10 (HD)
Video modes: 720p, 1080i, 1080p/60, 576i, 576p, 480p, 480i
240W metal halide bulb
Lamp life: 4,000 hours / 15,000 (in Economy mode)
Integrated 3.0 watt mono speaker
Contrast: 25,000:1
Color processing: 10-bit
Number of colors: 1.07 billion
Includes Digital Zoom feature
Vertical Digital Keystone only
Lens shift: No
Projector size: 4.30″ x 12.40″ x 9:50″ (HxWxD)
Weight: 6.2 lbs
Audible noise: 28 dB
HD compatibility: Full HD 3D
Enhanced gaming mode: 16ms input lag
Price
The picture on the HD146X is impressive indeed for $550, but it's easy to see where the costs were cut. All small projectors are fairly loud, but the noise created by the HD146X is more noticeable than most. It's a muscle car with a 500-horsepower engine and plastic seats.
Compare Optoma HD146X High Performance projector (review) vs BenQ TH685
| | ViewSonic LS600W | BenQ TH685 | Optoma HD146X |
| --- | --- | --- | --- |
| | | | |
| Resolution | 1280×800 | 4K | 1080p |
| Brightness | 3,000 lumens | 3,500 lumens | 3,600 lumens |
| Contrast ratio | 3,000,000:1 | 10,000:1 | 25,000:1 |
| Throw distance | 3.5′ – 29.1′ | 3.2′ – 24.6 | 3.3′ – 32.2′ |
| Max screen size | 300" | 300" | 301" |
| Input Lag | 16ms | 8ms | 16ms |
Optoma HD146X High Performance projector review
Design
The HD146X weighs only 6.2 pounds and measures 4.3 by 12.4 by 9.5 inches (HWD), making it easy to handle. It uses a 1,920-by-1,080-pixel DLP chip. Like them, it has a six-panel color wheel. The HD146X's wheel is red-yellow-green-cyan-white-blue (RYGCWB), with a white panel to increase brightness, and yellow and cyan panels to help minimize the color errors the white panel causes.
Connectors
There's a USB connection that outputs enough power to drive a streaming stick, like a Roku or Amazon Fire Stick. This way you don't need to run any long cables at all (except for power). To hear what you're watching with this setup, there's a 3.5mm analog audio out if you want to connect an external speaker.
Digital audio output: None
LAN port: None
12v trigger: None
USB port: 1 (1.5-amp power)
Audio input and output: 3.5mm output
HDMI inputs: 1
PC input: None
MHL: No
Remote: Backlit
RS-232 remote port: None
Lamp life
Lamp life, in certain modes, is quite good. In Bright mode it's a claimed 4,000 hours, which is fairly average. That jumps up to an impressive 10,000 for Eco mode, which is about 35% dimmer than Bright mode. If you enable the Dynamic Black feature, the lamp varies in intensity based on the average brightness level of the image it's projecting. Dark scenes are darker, bright scenes stay bright. Doing so bumps the claimed lamp life to an even more impressive 15,000 hours but also causes the fan to ramp up and down, which makes it even more annoying. This is true of most "Dynamic Black" type features, but is especially noticeable on the HD146X.
Control
The remote is backlit and so bright it could have inspired a Springsteen song. This remote is common with other Optoma projectors, and as such, has direct buttons for inputs that don't exist on the HD146X.
Image quality
The image scored surprisingly well for projectors at this price point, impressing with dark black level, contrast, shadow detail (details based on shading in dark areas), and a sense of three-dimensionality. Reference mode produced slightly more accurate color, but without the same level of contrast and at noticeably lower image brightness.
Color accuracy
What distinguishes this projector is that it delivers the best color accuracy for movies and the most visually dramatic rendering of dark scenes, particularly in low levels of ambient light. If you must have two HDMI ports, the convenience of an image shift for setup, or more capable on-board audio, the ViewSonic PX701HD or BenQ TH585 will be a better fit, and you should consider them in any case.
3D mode
The 3D feature is absolutely typical for projectors in this price range, supporting DLP-Link glasses and offering only one 3D picture mode. Performance was typical as well. I didn't see any crosstalk in my tests. 3D-related motion artifacts were at the high end of the expected range for current 3D projectors, but not unreasonable.
Lumens
The rated 3,500 lumens is bright enough to project onto a 1.0-gain white screen for a 270-inch-diagonal 16:9 image in a dark room. In ambient light, the suitable size is 150 inches in Bright mode, and smaller still for the modes with better color accuracy. As a practical matter, for formal testing in a dark room, Cinema mode was easily bright enough for a 90-inch image on a 1.0-gain white screen. In a family room with windows, it was bright enough to fill an 80-inch screen with nicely saturated color for nighttime viewing with lights on, or for daytime viewing on a rainy day.
How to setup
Setup is standard. The HD146X weighs only 6.2 pounds and measures 4.3 by 12.4 by 9.5 inches (HWD), making it easy to handle. Set it in place, adjust the manual 1.1x zoom, and focus. There's also a +/- 40 degree vertical keystone control to square off the image if you need to tilt the projector to aim at the screen. I set it up for a 90-inch image at 9 feet, 8 inches from the screen using the maximum zoom setting.
Optoma HD146X High Performance projector Performance review
I set it up and it is definitely a nice bright picture. Everything was great until I realized that the picture that shows the mounting options – it is literal. The bottom of your screen is exactly horizontal with the top of the table that you set your projector on. The manual states very clearly:
Vivid and Game modes are both brighter than Cinema, making them good choices for well-lit settings such as a room with lots of sunny windows. But dark scenes didn't have the same level of contrast or shadow detail as they did in Cinema mode, and color wasn't as accurate. For most projectors, the brightening effect of Game mode can help gamers spot objects or targets lurking in the shadows. But when I tested the HD146X, I found that the shadow detail and contrast in Cinema mode was good enough to serve this purpose—and, unlike Game mode, it kept all of the scene's dramatic visual impact.
Optoma HD146X High Performance projector customer review
Great "Entry Level" Projector

This is my first projector, and I did a lot of online research prior to selecting Optoma as a brand and this particular model, the HD146X. We have used this projector indoors, with a fixed screen, and outdoors with a portable screen. You won't be able to watch this (or any projector) outside in the daylight, but it provides a bright and clear picture in dusk and in a room with some daylight coming through window blinds. With 3600 lumens, watching during the daytime (as long as windows are somewhat covered) works quite well. At night, it looks really, really good. From sports, to movies, to video games, it projects a fantastic, bright, 1080P picture. It's easy to set up and operate, as well. It's not overly heavy, so it is easy to move from inside to outside, like we do.

A couple of small negatives: (1) the projector, while touting itself as being quiet, is not "whisper quiet" and does put forth a "whirring" noise that you can hear quite audibly if you are sitting close to it; and (2) the built in speaker is NOT what you are going to want to use for anything, as it is not very loud at all, and is drowned out a bit by the noise of the fan/device. What we did is to hook a bluetooth transmitter to the audio out jack on the speaker and send the audio to a huge and powerful bluetooth speaker. With this setup, we have a full movie-theater like experience, and it drowns out the noise of the projector (easily) and is a really fantastic experience. With that setup, for example, we watched Star Wars in our driveway and it was just great.

Overall, I would highly recommend this projector. I cannot compare it to a 4K projector, or even more expensive projectors generally, but for me, you get a great picture for the money.

By FletcherMiller at Best Buy
Alternate of Optoma HD146X High Performance projector
BenQ TH685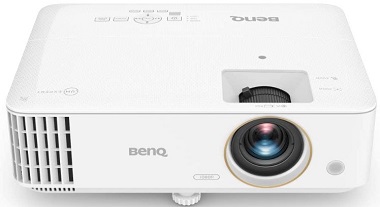 Home theater users will love the BenQ TH685, as well. It supports a wide range of content, first of all, including 3D content and 4K input. The picture quality is high, as well, employing HDR10 technology for a sharper contrast and wider color gamut. One thing to note is you will most likely want to use external speakers. It has high-quality audio signal processing with CinemaMaster Audio+, but the pair of 5-watt speakers that come installed can't do it justice. The fan can get rather loud, as well, which makes it even more difficult to hear your shows and movies using the speakers that come installed.
Another excellent option for gamers is the BenQ TH685. It gives an input latency as low as 8.3ms when it's in Enhanced Gaming Mode. That's supported by its high 120Hz frame refresh rate, which keeps the on-screen image sharp even when you're playing fast-paced, graphic-intensive games.
This minor issue aside, the BenQ TH685 is an excellent choice for any home theater or media room. Its bright lamp allows for lights-on viewing and it has a user-friendly set-up and installation, with a range of adjustment options including lens shift, keystone correction, and a 1.3x zoom.
Pros
High color accuracy with HDR10
Bright enough for lights-on viewing
Wirelessly stream content right to projector
Full 3D support
Enhanced Game Mode reduces lag to 8.3ms
Robust image adjustment features
Cons
Contrast ratio not as high as other options
Fan can get loud in high performance modes
ViewSonic LS600W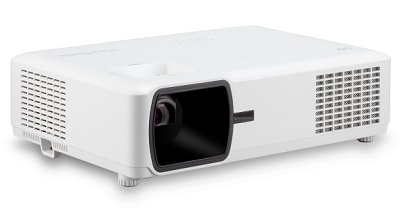 The ViewSonic LS600W is a low-maintenance, user-friendly option for your home theater. It uses an LED light source with a longer lifespan than most projector lamps—up to 30,000 hours, depending on the use conditions. Along with that, the IP5X Dust Prevention system reduces the need to clean filters or perform maintenance. Basically, the LS600W is built to last without any demands on the user.
The set-up and installation of the ViewSonic LS600W is easy, too. Along with standard alignment options like zoom and keystone correction, its 4-corner adjustment system simplifies the process, letting you quickly eliminate warp. You can also use this projector with remote monitoring and control programs, which is helpful for use in office or classroom settings. Since it supports 360° orientation, it doesn't need to be completely flat to operate, something else that's helpful in display settings.
The native resolution of the ViewSonic LS600W is WXGA, or standard definition, so the picture isn't as detailed or sharp as from a 1080p or higher projector. That said, it has excellent color support and a high dynamic contrast, so it will still give you a nice viewing experience. It simply doesn't have the realism you'll get with a higher resolution.
Pros
Wide color gamut supports hues beyond Rec. 709
Easy set-up with 4-corner adjustment and 2D keystone
Intuitive navigation and control
Can be set up at any angle
Advanced anti-dust system makes it truly no-maintenance
Long lamp lifespan (up to 30,000 hours)
Cons
Image is low-resolution
Relatively long throw distance
Editor's recommendations