Does it impact your working environment? Make sure your environment is safe to welcome employees back to work, students back to school or guests back into your space. Monitor CO2, Humidity, Temperature, Virus Risk, Radon, VOCs, Pressure, Light with the Starter Kit. Know more in Airthings Wave Plus for business review.
Consumer Reviews is supported by its audience. This website contains Paid Links. As an affiliate, we earn from qualifying purchase. Find more
Pros & Cons – Airthings Wave Plus for business
Pros
Real-time radon detection
Additional sensors track CO2, TVOC, and air pressure levels
Simple and intuitive app
Simple to set up
Continuous radon monitor, 1-hour interval
Get updates by waving hand gesture
Six air quality sensors (gas-centric)
Useful smart app and online dashboard
Long-lasting battery
Cons
Not Wi-Fi enabled
No dust/particle sensor
More expensive than conventional radon testing methods
Andoroid app setup was buggy
Specs – Airthings Wave Plus for business
Number of Sensors 6
Sensors Radon, Carbon Dioxide (CO2), Volatile Organic Compounds (TVOC), Temperature, Humidity & Air Pressure.
Onboard Air Quality Display ✔️ (Red/Yellow/Green glow ring)
Smart App Support Airthings Wave App for both iOS, Android, and online dashboard (Link: App Store, Google Play, Airthings Dashboard)
Smart Home Connectivity Amazon Alexa, Google Assistant, and IFTTT
Wireless Connection Bluetooth or Airthings SmartLink
Power 2 AA batteries (up to 18 months)
Weight 219 grams (including batteries)
Dimensions 4.7″D x 1.4″H
Where you can use it?
If you want to test the living room, the kitchen, the garage, the attic, the basement, and every bedroom in the house, however, you can do it all with a single Wave. Just move it between rooms on a weekly basis and track the numbers for that week to get a fairly accurate reading. It'll be slower than using multiple test kits simultaneously, but it'll save money much more quickly. And again, the risks of radon come with cumulative exposure, so the wait isn't exactly the same as going without smoke or CO2 detectors.
Price
The Wave Plus costs £239 from the Airthings site, which is your best bet. It's also available on Amazon, although it's retailing at the much higher price of £286.80.
Compare Airthings Wave Plus for business
| AQI Metric | Unit | Sensor Type | Range | Tolerance |
| --- | --- | --- | --- | --- |
| Radon | pCi/L or Bq/m3 | Alpha spectrometry (passive diffusion chamber) | 0 – 500 pCi/L or 0 – 20,000 Bq/m3 | After 7 days ~ 10% After 2 months ~ 5% |
| Chemicals (TVOC) | ppb | – | – | – |
| Carbon Dioxide (CO₂) | ppm | NDIR (Non-Dispersive Infra-Red) carbon dioxide sensor | 400 to 5,000 ppm | ±30ppm or 3% |
| Temperature | °C / °F | – | – | ∓ 0.1°C / F |
| Relative Humidity | % | – | 0 to 100% | ∓1% RH |
| Pressure | hPa | – | – | ∓0.15hPa |
What is it?
It's a smoke-detector sized disc with a light ring that glows green, yellow, or red when you wave your hand in front of it. The colors indicate the current air quality status. A pair of AA batteries are preinstalled in the unit, so all you need to do is remove a battery tab and launch the Wave companion app to start the pairing process.
Positioned in the center of the Wave Plus is a large light ring that provides a quick overview of the air in the home through a series of different colors, such as green for good.
It is a typical smoke detector, with a round, all-white design that can be mounted on walls or ceilings. The face of the device is littered with small air inlets, along with two recessed areas near the bottom used for motion detection and power status.
Airthings Wave Plus for business review
Design
The Airthings Wave Plus has the following parts – power indicator, light ring, motion sensor, air inlet, and mounting bracket. At 7.8 ounces, it's portable. It also has a power indicator that flashes every 20 seconds. If it turns green, the battery level is ok but if it turns red, replace the battery.
Radon detection sensor
Airthings Wave Plus can be a great fit. This smart sensor can detect 3 gases, including radon, powered by two AA batteries, lasts up to 16 months. For easy sensor data access and analytics, it has a handy smartphone app and an online dashboard. Long-term effects can lead to lung cancer. When you breathe in radon gas, the tiny radioactive particles lodge in the lungs' lining, where they give off radiation.
VOCs, Humidity sensor
TVOC sensor that detects VOCs from everyday items such as paint, furniture, and cleaning products. If the device detects VOCs, it alerts you of the high levels, along with a list of chemicals.
The fourth and fifth sensors detect humidity and temperature. High levels of humidity promote the growth of mold, while dry air leads to flu and cold. The ideal relative humidity for comfort and health is about 40% to 50%. Like carbon dioxide, temperature also affects your sleep patterns along with alertness and mood.
Carbon dioxide sensor
It impacts your productivity, sleep, and health. Daily activities and occupancy result in high levels of exhaled gas, especially if the home or room is poorly ventilated. To improve productivity and sleep, ventilate your home.
Smart Home Integration
Airthings added IFTTT integration that can be applied to both it and the Wave Plus. Some of the baker's dozen applets are undeniably useful: "Send SMS when radon level rises," "Turn my hue lights red when radon is high." Others are more for fun: "Tweet your good radon levels." There also are applets that notify you when the temperature gets too cold, CO2 levels get too high, or the air gets too dry.
Apps
The app updates with the latest data whenever your phone is within 30 to 50 feet of the Wave Plus detector and its Bluetooth radio is on. The app's main screen prominently displays the same ring-style air-quality indicator as the unit. Readings for the radon, TVOC, and carbon dioxide levels appear below that, along with the current temperature, humidity, and barometric pressure.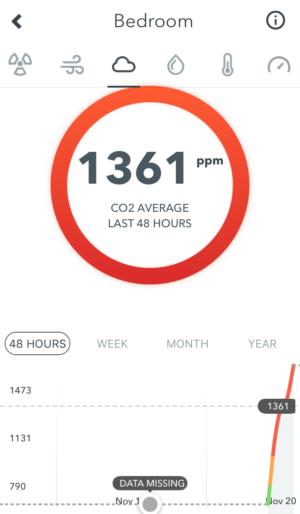 The main advantage here is you can review readings from multiple devices/rooms at once and export the data as a CSV file. Additionally, you can add a tile that uses your device's location to display outdoor air-quality data for a more comprehensive understanding of your indoor readings.
Swiping to the right lets you look at historical data—the last 48 hours, week, month, or year—for each of these air-quality elements in turn. You can also view this data from any web browser by logging into the Airthings dashboard using the same credentials used in the app.
How to install Airthings Wave Plus for business
To mount the Wave Plus to a wall or ceiling, you just remove it, attach it to the whichever surface with the supplied screw, and then snap the unit onto it. To produce the most accurate readings, Airthings advises installing the sensor at least three feet from windows or vents.
It takes about an hour after setup to get your first radon reading—the app provides a countdown timer—and about a week for radon detection to fully calibrate. Once it does, you can get a quick air-quality status by waving your hand in front the unit. Your air quality is "good" if the indicator ring glows green.
To get the most from the Wave Plus you'll need to download and install the Airthings Wave App for iOS or Android. This app connects with Bluetooth to the Wave Plus and will give you insights into the air quality that you are testing. The Wave Plus is a Bluetooth only device, so you'll have to be within Bluetooth range on your mobile device to get these updates. After the data has been synced via Bluetooth and you have internet connection on your mobile device, the data will be further pushed to the cloud, enabling you to see your data on the online dashboard.
Airthings Wave Plus for business customer review
Provides a lot of data.

This thing does a lot! You'll need a smart phone and the app to get things going. Install it and wait a week so it can calibrate. Then you're off and running and able to see all kinds of interesting data about the air quality of your house. This will read the radon, TVOCs, CO2, humidity, temperature, and barometric pressure inside your house. It suggests installing downstairs. We have this in the hallway downstairs which is kind of in the middle of the house. It seems to get a pretty good reading there. The app is pretty cool because it will show you the data over weeks, months, hours etc. This is great for anyone who wants to keep an eye on the stuff you cant see. With a new baby, I find myself really wanting to monitor the air quality of our home. We also have 2 dogs so I want to be sure everything is as safe as possible for everyone in our home. The unit itself is super easy to install. You have to mount a little plate but then the actual device has a magnet and it just sticks on there. It's about the size of a smoke detector. You can also wave your hand in front of it and get a color coded response about the quality of your air. I've had this up for about a month now. I havent had any issues with the unit so far and no problems with the app. Very simple to use but there is a lot of information and data. I've had to do a little research on certain things because I didnt know all of the elements it checks for. Overall this would be a good unti for anyone who is concerned about air quality in their home. Or just wants to be extra safe from those things you cant always see.

By Jkc83 at AIRTHINGS
Editor's recommendations