Recently upgraded with a boost in suction strength, the lightweight, portable Onson Stick Vacuum boasts a 40-minute maximum runtime and two interchangeable brushrolls. Cordless convertible stick vacuums are perfect for everyday vacuuming and automobile detailing. While many fall short in terms of battery life and suction power, Onson bucks these trends with this stick vacuum. Discover more in Onson cordless stick vacuum cleaner 20KPa reviews.
Consumer Reviews is supported by its audience. This website contains Paid Links. As an affiliate, we earn from qualifying purchase. Find more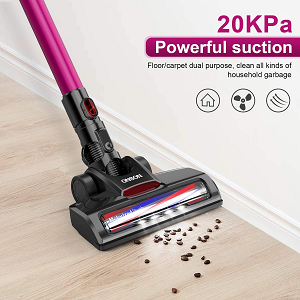 ONSON Cordless Stick Vacuum – Features summary
Below is an overview of the features and specifications that you can expect:
Type: stick, bagless
Cordless
2V lithium-ion battery (inbuilt)
Motor: 250 Watts
Max suction: 20 kPa (adjustable)
Weighs 3.08 lbs.
Washable filter
Mounting bracket
Headlights
Power supply: 100-240 Volts
Battery level indicator
Pros & Cons – ONSON Cordless Stick Vacuum
Well, like every other vacuum, there are advantages and disadvantages to owning the ONSON. Let's take a look …
Pros
Ultra-light
Strong, adjustable suction
Easy to maneuver
Converts to a hand vacuum quickly
Easy to empty and clean
It's quite affordable
Convenient storage
Has attachments
Attractive design
It's easy to monitor the charge left
Great with pet hair
Multi-floor cleaning
You don't have to keep your finger on the trigger as you vacuum
Cons
Could use a one or two more attachments
Expect the battery to run out fast as is the case with most cordless vacuums
Key feature – Onson stick vacuum cleaner
Battery Protection System: Please do not press the power button while assembling the vacuum.
Replaceable Filter : Detachable & Washable filter makes it easy to clean after using a handheld vacuum
All-round Cleaning: Good for cleaning hard floors, woodhard floor and low pile carpets.
One-Click Release : No leakage, lock in small particles when cleaning, expels fresh and cleaner air finally.
Two Different Roller Brush: Configure 2 types of roller brushes, easy to change roller brush.
Charge Quickly: Using a high-efficiency lithium-ion battery, it can work for 20-40 minutes on a single charge.
Onson stick vacuum cleaner comparison
| | D18E | D18E Pro | D18E Pro |
| --- | --- | --- | --- |
| Lithium ion Battery | 2200mAh | 2200mAh | 2200mAh |
| Runtime | 25-45 mins | 15-30 mins | 15-30 mins |
| Motor Power | 150W | 250W | 250W |
| Max Suction Power | 12KPa | 20KPa | 20KPa |
| Dustbin Capacity | 0.55L | 0.55L | 0.55L |
| LED Multi-tasker power brush for all floor type | ✓ | ✓ | ✓ |
| Crevice tool, 2-in-1 Dusting brush | ✓ | ✓ | ✓ |
---
Onson cordless stick vacuum cleaner 20KPa reviews
Size & weight
Its dimension is 26.77 x 8.86 x 6.3 inches. The sleek red-and-graphite Onson stick vacuum is incredibly lightweight. At a mere 4.85 pounds, anyone can lift and carry the stick vacuum up the stairs or across the house.
The vacuum is also comfortable to hold during long cleaning sessions. The robust handle allows for a wrap-around grip, eliminating wrist strain and hand fatigue. While the Onson stick vac performs well on hardwoods, low to medium-pile carpet and tile, the design of the vacuum doesn't limit it to floor-only cleaning.
In seconds, you can turn the stick vacuum into a handheld vac and use it to clean blinds, car interiors and more with the crevice wand and dual-purpose dusting brush.
Brushrolls
Maneuvering around corners is a breeze thanks to the floor head's ability to pivot 180 degrees, and a pair of smooth wheels drastically reduces the force needed to push the vacuum. With its slim height, the floor nozzle can fit under clearances of 3.2 inches. It's even equipped with running headlights for enhanced visibility in dimly lit areas (Onson cordless stick vacuum cleaner 20KPa reviews).
The 9.6-inch-wide floor nozzle comes with two kinds of brushrolls that you can switch between quickly, and it has an edge-to-edge window that lets you check for tangles at a glance. The hard-bristled helix-patterned brushroll is made for vacuuming carpets, and the soft double-V rolling brush is suitable for bare-floor vacuuming.
Two floor heads
Versatility is another selling point for the ONSON cordless vacuum. More often than not, homes have a combination of bare floors and carpets. With this in mind, ONSON provides 2 brush heads with each unit – one for carpets and the other for hard floors (tiles, hardwood, etc.).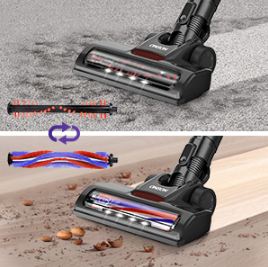 The only downside of this is having to interchange between the two whenever the need arises.
20Kpa suction power
Onson gives you two levels of suction strength from which to choose – standard and max. The stick vacuum uses a powerful, 250-Watt-rated motor to generate enough force to pick up even the most stubborn dirt. The suction generated measures up to 20 kPa, which most stick vacuums struggle to reach.
The suction is also adjustable. Therefore, you conveniently can pay more attention to the high traffic areas without necessarily having to go over them several times.
The 150-watt stick vacuum generates multiple cyclones of suction to separate dust from debris. Once sifted, the debris falls into the transparent 0.55-liter dirt cup, which opens from the button. Simultaneously, fine dust travels through the washable HEPA filtration disc that sits in a clog-preventing cone.
2-in-1 functionality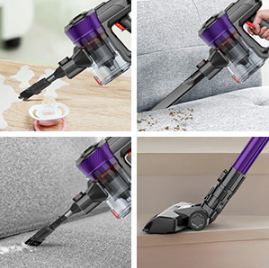 Instead of buying a hand vac separately, most people go for a 2-in-1 cleaner. A vacuum that can be easily converted into a handheld vacuum helps to easily clean above the floor. So, cleaning stairs, drapes, curtains, upholstery, shelves, window sills, and so on becomes a walk in the park.
Battery and run time
For its convertible stick vacuum, Onson used a rechargeable lithium-ion battery. With the battery's high capacity of 2,200 mAh, you can vacuum for 20 minutes on max mode and 40 minutes on standard mode.
This gives you enough time to vacuum multiple rooms or your entire car if you start with a fully charged battery. To recharge the battery, Onson provides an easy-to-use adapter that plugs into an electrical outlet, which replenishes the battery in 4 to 5 hours. While the stick vac is charging, you can store it and both attachments on the docking base. The base can be kept on a tabletop, or you can mount it to the wall.
The problem with cordless vacuums, however, is that the run time is dependent on how much suction you generate. For example, if you are cleaning carpets, you may have to switch to Max mode. So, the vacuum will only last for a few minutes and may not reach the expected maximum runtime. Therefore, the ONSON stick vacuum is ideal if you have a small to medium-size apartment or if the house is not fully carpeted. Otherwise, you may have to recharge it before completing the task.
User friendly
Apart from being powerful, the vacuum offers convenient cleaning. First, it is very easy to maneuver because you can steer the floor head up to 180 degrees. Then, it has LED headlights to help illuminate dark areas so that no dust, dirt or debris remains.
Attachments
What's a vacuum without attachments? Well, it becomes just a basic floor cleaning tool. But cleaning is not about the floor only. Other above-ground areas also need attention as highlighted above.
These attachments make it easier to quickly pick up dust and dirt from furniture, stairs and so on. In addition to the handheld mode, you get a dusting brush and a crevice tool to make your work easier. They could have added a few more tools, but that still better than none.
What is the alternative of Onson stick vacuum cleaner?
How good in Shark Rocket DuoClean's suction? The difference between the Onson Stick Vacuum's and the Shark Rocket DuoClean's suction is drastic since the Shark isn't a cordless stick vacuum.
Slim, swiveling floor heads allow the 4.85-pound Onson stick vac and the 9.9-pound Shark vacuum to clean close to wall and furniture edges. Additionally, their bright headlights ensure you can see all debris.
Both the 150-watt Onson and the 600-watt Shark can be set to run at one of two continuous-suction speeds. However, the Onson's speed button is easier to use than the Shark's thumb sliding switch.

While the Onson and the Shark stick vacuums come with two comprehensive brushrolls, the Shark is designed to house both rolling brushes at once.
You have the option of transforming these stick vacuums into a handheld version for above-floor cleaning chores. Each manufacturer includes a crevice wand and a combo brush, but the Shark's 2-in-1 brush can be used on hard and upholstered surfaces. Plus, the Shark Rocket DuoClean also has a handheld-mode headlight.
Although the Shark's wall dock doesn't offer tool storage, the vacuum does come with an onboard storage clip. The Onson is equipped with a lithium-ion battery that runs for up to 40 minutes per charge. However, the Shark Rocket DuoClean HV382 has a 30-foot power cord, which provides an unlimited runtime.
Their dirt cups are hygienic, opening from the bottom, but the Shark's cup can hold 0.31 liters' more debris than the Onson's cup can.
Both Onson and Shark did a great job with the filtration system. The Onson vacuum contains a rinsable HEPA filter, and the Shark Rocket DuoClean HV382 has a foam-and-felt pre-filter as well as a post-motor filter.

Editor's recommendations