Oreck Commercial ORB550MC floor machine – Can it clean outdoor deck? The Oreck Commercial Orbiter works differently; the brush head rotates in a random orbit for easy-to-use fingertip control. With several different cleaning pads available for purchase along with superior cleaning supplies, it's versatile enough to tackle virtually any job, on any floor surface and gives you amazing, professional-looking results every time.
Consumer Reviews is supported by its audience. This website contains Paid Links. As an affiliate, we earn from qualifying purchase. Find more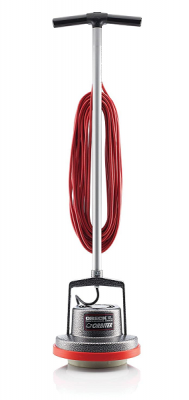 Oreck Commercial ORB550MC floor machine Specifications
Global Product Type: Cleaning/Waxing Floor Machines-Roto Scrubber
Floor Machines Type: Scrubber; Polisher
Handle Type: T-Grip
Brush Diameter: 12″
Power Capacity: .5 hp
Cord Length: 35 ft
Brush RPM: 175 rpm
Quantity: 1 each
Pre-Consumer Recycled Content Percent: 0%
Post-Consumer Recycled Content Percent: 0%
Total Recycled Content Percent: 0%
For Residents of California: WARNING: Cancer and Birth Defect/Reproductive Harm — www.P65Warnings.ca.gov/product
Key features of Oreck Commercial ORB550MC floor machine
Dry cleans carpet and deep cleans high traffic institutional grade carpets
Buffs and polishes hard wood floors
Scrubs and cleans ceramic tile and grout
Scrubs and cleans concrete and can remove oil stains
Polishes, scrubs, and revitalizes vinyl
Scrubs and cleans brick, slate and stone floors
Hard floor and tile kits with pad and cleaning chemical combinations sold separately
Frequently asked questions
Can I clean my outdoor deck?
The Oreck can clean most surfaces. For decks it will be necessary to know what the surface is: composite, pressure treated, painted. Each surface will need to be evaluated for an appropriate cleaning solution and pad for the Oreck.
What brush comes with this?
No brushes came with the machine, but I purchased, the Oreck Orbital Complete Clean value Kit, I think its like $139 on Amazon, but gives you two brushes-Orange, which I found too rough for most applications, but outside decks, bare concrete etc., the Black brush was perfect for carpets, epoxy floors and tile. The kit comes to clean carpet with a dry solution. I have not tried that yet, but will soon. The machine is WONDERFUL for cleaning tile and epoxy floors that have embedded dirt.
I got the larger unit-heavier motor. If you don't want that entire kit, just spend the money on the black brushes. I got several of them. They do flatten or spin out, or will soon. That being said, I am still using the first one, and it still works great. Its a GREAT machine, and none like it that I have seen. It gets into corners very well. The machine is heavy, but that adds the needed weight for deep cleaning that smaller units will just lightly brush over, making them almost useless. I hope this helps!
Do you need a screen kit for removing urethane coating on hardwood floors?
Sandscreening is ideal for refinishing the polyurethane coating on hard wood floors. The procedure is not designed to totally remove the old polyurethane, but smooth out imperfections and prime the floor for a new fresh coating. However, polyurethane coatings are generally very durable and look good for a long time – try a thorough cleaning before refinishing the polyurethane coating to see if the luster can be restored.
Equipment and Material Required:
* Orbiter® Multi-Floor Machine
* Black Drive Pad Holder
* Brown Strip Pad
* Sand Screen 60 grit
* Sand Screen 80 grit
* Sand Screen 100 grit
* Broom or Dust Mop
* Vacuum Cleaner
* Tack Rags
Procedure
1. Use Orbiter® Multi-Floor Machine and the brownstrip pad.
2. Place #60 grit sand screen disc under brown strip pad. Sand the floor. Remove residue by vacuuming or sweeping the floor in the same direction as the boards.
3. Place a #80 sand screen disc under the brown strip pad. Sand the floor.
4. Sweep and vacuum the floor, then tack rag THOROUGHLY.
5. Apply finish according to manufacturer's recommendations.
6. Burnish between coats with #100 grit sand screen disc and tack rag
Which pads are good to stip a tile floor and then wax it?
Depends on your tile. Try a small inconspicuous area of your tile first…that way if anything goes wrong (scratching/staining/damage) you can adjust you technique…for heavy wax/dirt I used the black scrub pad. It's the most aggressive. For less stripping power you can use the green or white colored scrub pad.
I tried several chemicals for the heavy stripping and found "adhesive remover" (found in the tile section of your box store) worked best overall for getting the wax off quickly/completely…commercial grade wax remover worked good but not as fast. Whatever you use/test it first…let it sit on the wax as long as needed before stripping…the longer the better…for light wax stripping you can use any of the household brands available at your box store too…
My tile was Quarry tile and survived all the chemicals I threw at it…very durable…once the wax is stripped off/you will need to mop several times to get the chemical off the tile…any white spots I had left was stubborn wax that needed a little more elbow grease. I tried the orange/black/natural color scrub brushes that also fit this machine and they worked great for the grout lines…not very good on the tile…for getting your shine back/again…depends on the tile…I used a simple soft pad on a broom stick and lightly spread a light wax and let it dry. I then buffed it with the soft buffing pad that you can buy for this machine. Excellent result.

Editor's recommendations